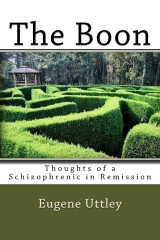 Riddled into this experimental open letter is the story of a man who made the "hero's journey"
to another world and back again. The prize he won there, the ultimate boon, is knowing what he wants.

"Wisdom warns against desire, but there is power in wanting - power that can fuel the will and keep lit that
precious torch, hope."

This line stands as a rare moment of profundity in a largely light-hearted read. For all its references (and there are many), this book maintains a brisk, entertaining pace. Plus it has the potential to help people along in their thinking, to contest somewhat the negative stigma associated with schizophrenia, to foster positivity in the face of mental illness, and to aid in recovery.

What Eugene Uttley wants is to be whole. The Boon is process toward that state.

Being the thoughts of a schizophrenic in remission on connectedness, this creative nonfiction personal essay includes original and appropriated prose, poetry, song, prayer... memoir, travelogue, sketches of daily life and literary exegesis. Its topics (in no particular order) include: Carl Jung (individuation, archetypes, synchronicity), Martin Heidegger (Dasein), Jacques Derrida (deconstruction), Greek etymology (soul and sin), Ralph Waldo Emerson (Oversoul), Beatniks (Ginsberg, Kerouac on Buddhism) and post-Beatniks (Thomas Pynchon), moderns (James Joyce) and postmoderns (Tom Robbins), movies (The Fisher King, The Soloist, The Truman Show, Wings of Desire, The Matrix, One Flew Over the Cuckoo's Nest, Moulin Rouge, Real Genius, Being John Malkovich, Being in the World) and moviestars (Bill Murray), oilpaintings (John William Waterhouse, Kim Chang Han), sculpture (David, the Pieta), websites (gnod.net, zombo.com, schizophrenia.com, schizophreniaforums.com), quotations and teachings of spiritual leaders (Jesus, Buddha, the Dalai Lama, Ghandi) and musicians (Michael Jackson, Michael Franti, Arlo Guthrie, Greg Brown, Iris Dement, Harry Connick Jr., Joe Cocker, Nat King Cole, G. Love, KRS-One), verses from the Bible and the Tao te Ching, the Catechism of the Catholic Church, The Cloud of Unknowing, Flatland, Over the Transom, Florilegium, Moby Dick, Richard McLean, Mark Vonnegut, Kurt Vonnegut Jr., Frank Herbert, Phillip K. Dick, William S. Burroughs, Hermann Hesse, Thomas Merton, Dr. Demento, Dr. Seuss, John Milton, Alan Watts, Joseph Campbell, Lev Vygotsky, Annie Dillard, Thomas Szasz, Susan Sheehan, Michel Foucault, Douglas Adams, Marcus Aurelius, John Keats, Aesop, Albert Einstein, Percy Bysshe Shelley, Oscar Wilde, Plato, Thurgood Marshall, Francis Bacon, Saint Augustine, Thomas Aquinas, Robert K.C. Forman, Walter Freeman, Walt Whitman, William Shakespeare, Lord Buckley, R.D.Laing, Jorge Luis Borges, Cicero, Aristotle, Baruch Spinoza, Albert Einstein, Stephen Hawking, Michael Moore, Trey Parker, Lazlo Toth, Saint Ambrose, Alex Scott, Funnyinthehead, Mad Max, Max Headroom, Viracocha, Serapis, Anahata, Avalokitesvara and the goddess Quan Yin, genii loci, the bhavacakra, the Wheel of Fortuna, the fool figure, the seven sacraments, string theory, artificial intelligence, neurodynamics, brain-computer interfacing, intentionality, recovery and meditation tactics and techniques, positive thinking, cognitive dissonance, neologism, word salad, psychotic break, delusions and hallucinations, hearing voices, avolition and anhedonia, deja vu, Prozac, Abilify, marijuana, Skull and Bones, HAARP, ELF, VOG, Indiana, Oregon, Alaska, Jeju Island, Seoul (Insadong, Itaewan), being an expat and a patriot, teaching ESL in South Korea, American politics and foreign policy, the separation of church and state, querying literary agents, suicide, blackout drinking, plagiarism, internet piracy, identity theft, bankruptcy,poverty, unemployment, anomie, intelligent design, ego death, solipsism, The Age of Reason, art, science, therapy, friendship, family, dreams, transformation, virtue, and love.



Publication Date:

Dec 14 2012

ISBN/EAN13:

1481233947 / 9781481233941

Page Count:

468

Binding Type:

US Trade Paper

Trim Size:

6" x 9"

Language:

English

Color:

Black and White

Related Categories:

Biography & Autobiography / Personal Memoirs
Order Now from the source - The CreateSpace Estore...
paste into browser --> https://www.createspace.com/4094053 CreateSpace coupon code --> PS24ZV8E
More Promo Info on The Boon
Please sign up to be notified of new titles and developments...
The Boon is pretty much not what it's all about right now, but there's more to come!